Dr. Ramanamoorthy Chitti, MD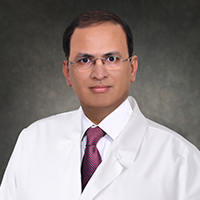 Radiation Oncologist
Dr. Ramanamoorthy Chitti received his medical degree from New York University and completed a radiation oncology residency at Weill Cornell University at New York Presbyterian Hospital. He completed a radiation oncology fellowship in pediatric radiation oncology at St. Jude Children's Research Hospital in Memphis, TN. Dr. Chitti is board certified by the American Board of Radiology in Radiation Oncology as well as the American Board of Physician Specialties in Radiation Oncology.
Dr. Chitti specializes in the diagnosis and treatment of cancers involving all body sites. He has expertise in many radiation therapy deliver techniques including Stereotactic Radiosurgery (SRS), Stereotactic Body Radiation Therapy (SBRT), 3-D Conformal (CRT), Intensity Modulated (IMRT), Image Guided (IGRT), Brachytherapy, Low Dose Rate (LDR), High Dose Rate (HDR), Volume Modulated Arc Therapy (VMAT).
Dr. Chitti is a member of the American Society for Radiation Oncology (ASTRO), the Radiological Society of North America (RSNA), the American College of Radiation Oncology (ACRO), the Children's Oncology Group (COG) and the American Brachytherapy Society (ABS).