Dr. Thomas Hegarty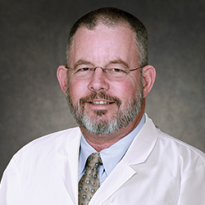 Radiation Oncologist
Dr. Thomas John Hegarty received his medical degree from Loma Linda University School of Medicine. He completed a radiation oncology residency at the University of Utah – Huntsman Cancer Hospital. Dr. Hegarty has practiced, taught and held academic appointments at the University of Michigan, Wayne State University, the University of Toledo and Loma Linda University. Dr. Hegarty is board certified by the American Board of Radiology in Radiation Oncology.
Dr. Hegarty specializes in the diagnosis and treatment of cancers involving all body sites including the nervous, aerodigestive, thoracic, gastrointestinal, genitourinary, lymphatic and musculoskeletal systems. He has expertise in many radiation therapy delivery techniques including 3-D Conformal (3DCRT), Intensity Modulated (IMRT), Image Guided (IGRT) and Brachytherapy – Low Dose Rate (LDR) and High Dose Rate (HDR).
Dr. Hegarty is a member of the American Society for Radiation Oncology (ASTRO).