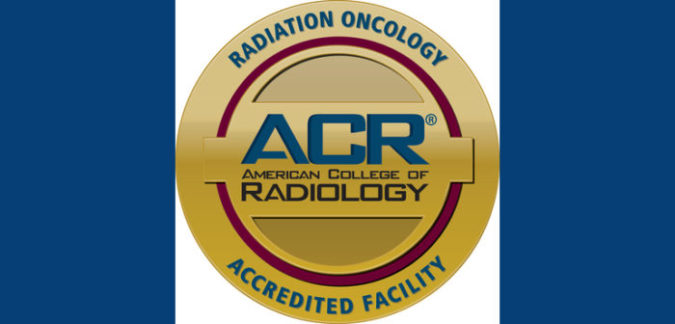 Central Care Cancer Center has achieved the highest level of recognition in the country for its radiation oncology practice at Heartland Cancer Center in Garden City. American College of Radiology, the nation's leading radiation oncology accrediting body, recently awarded Central Care Cancer Center a full three-year accreditation for radiation oncology.
Central Care Cancer Center partners with St. Catherine Hospital and Centura Health in providing oncology services at Heartland Cancer Center.
Among physicians, ACR accreditation is recognized as the highest achievement in medical imaging for practices and represents the peak level of quality and patient safety. Because of rigorous accreditation guidelines, only seven oncology practices in the state currently have the ACR gold seal distinction, and Central Care is affiliated with the only two ACR accredited facilities west of Topeka.
"Our staff went through a meticulous process to achieve accreditation," explained Johanna Garzon, Director of Heartland Cancer Center. "It is a process in which an impartial peer review is completed and a site visit is conducted to assure that quality standards are being followed. The accreditation affirms that at Heartland Cancer Center we are providing the absolute best healthcare and safety measures to our patients."
ACR accreditation rounds out the highest levels of certification for all of Heartland Cancer Center's oncology services. Its medical oncology program was accredited by the Quality Oncology Practice Initiative (QOPI) Certification Program last spring. Additionally, the Breast Center at St. Catherine Hospital, located inside the cancer center, is certified by the National Accreditation Program for Breast Centers, sanctioned by the American College of Surgeons. It is the only center between Kansas City and Colorado Springs to achieve such distinction.
"Western Kansas deserves the best care available and that's what we provide at Heartland Cancer Center," said Dr. Claudia Perez-Tamayo, Radiation Oncologist and President of Central Care Cancer Center. "Not only do we have an expert team of physicians, but we have the greatest technology available in oncology care today. The PET-CT and the TrueBeam STx bring the latest, most-advanced technology to Kansas. Our unique blend of physician expertise, technology, and achievements of national accreditation measures assures our patients that they are receiving the best care in the state and beyond."
Besides affiliation with ACR through accreditation, Dr. Perez-Tamayo is distinguished as an ACR Fellow. Only 10 percent of American College of Radiology members have earned the national honor. ACR Fellowship is awarded to members of the College who have achieved significant accomplishments in scientific or clinical research in the field of radiology; made significant contributions to literature; and/or provided outstanding work as a teacher of radiology.
For more information about the ACR Practice Accreditation Program: https://www.acraccreditation.org/modalities/radiation-oncology-practice
Heartland Cancer Center, https://heartlandcancercenter.org
Central Care Cancer Center, https://www.cccancer.com
-30-
---
For more information, contact Johanna Garzon, Heartland Cancer Center, johanna.garzon@cccancer.com, 620-272-2579, ext. 347.
January 9, 2019
FOR IMMEDIATE RELEASE
News release provided by: Michael Dawes, PR Manager – Central Care Cancer Center, 785-823-0633, ext. 228; michael.dawes@cccancer.com