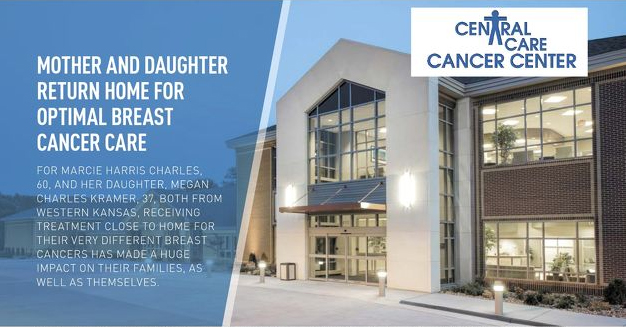 Two Heartland Cancer Center patients were featured in the October/November issue of MD News. The story is an abridged version of the feature story that originally appeared last spring in the Progress Edition of the Garden City Telegram, by Beverly Schmitz Glass. It was re-printed with consent from the author.
---
For Marcie Harris Charles, 60, and her daughter, Megan Charles Kramer, 37, both from western Kansas, receiving treatment for their very different breast cancers close to home has made a huge impact on their families, as well as themselves.

It's been an eight-year journey that has included three other cancer treatment centers—one in Dodge City, the others hundreds of miles away in Houston and Phoenix. However, for nearly two years mother and daughter have found optimal care and comfort at Heartland Cancer Center in Garden City. The state-of-the-art cancer treatment center is a partnership between Central Care Cancer Center, St. Catherine Hospital and Centura Health.

Charles, who lives in Dodge City, and Kramer, who hails from Cimarron, began the breast cancer battle in 2010, when Kramer was diagnosed with inflammatory breast cancer (IBC) — a rare and difficult breast cancer to treat due to its sheer aggressive nature to spread throughout the body. It occurs when the cancer cells block lymph vessels in the skin of the breast, making it appear bruised and swollen because of the reddish purple color.

In March 2010, Kramer began radiation and chemotherapy treatments at another treatment center in Dodge City.  In the summer of 2010, she had a double mastectomy that included the removal of 13-plus pounds of tissue. The pathology came back with clear margins, and no signs of cancer in other parts of her body were found.

However, at Kramer's checkup in March 2012, her family practice physician noticed a lump on her neck. After the usual battery of tests showed new cancer growth, Kramer ultimately made the decision to seek cancer treatment care in Houston. She participated in a three-year-long trial that lasted well into 2015.

Following the clinical trial in Houston, Kramer and her husband, Cory, traveled to Phoenix in late 2015 to another leading cancer treatment center. She underwent more radiation and chemo for three weeks, come home to Kansas for a week, then returned back to begin the process again.

The frequent changes with clinics and medical providers over the years brought a barrage of testing for Kramer, much of it repeated testing. It became a disheartening process for Kramer and Charles.

"It's really frustrating to have to repeat the same tests every time you go to another specialist or medical center," Charles said. "No one, it seems, can read another entity's results or scans because they have a different system. It's a huge disservice to patients when tests are repeated and repeated."

By the Christmas holiday in 2016 Kramer decided she needed to stop all of the flights and endlessly long car trips and deal with the hard fact that her children — Landon, Ally and Brenna — were growing up without her. Kramer said to her mother, "I can't be away from my family for weeks at a time any more. I need to come home." By now, the cancer had spread to her brain.

Treatment near home

In January 2017, after consults and more tests, Charles and Kramer sat down with family friend Heather Wright-Renick, BSN, RN, CN-BN, who is a certified nurse navigator as well as Director of The Breast Center, located at Heartland Cancer Center. In her usual candor, Wright-Renick, herself a breast cancer survivor, asked when they were going to stop traveling and receive treatment at Heartland Cancer Center.

Upon consideration, they quickly realized the advantages of what the area's comprehensive cancer center has to offer.

Heartland Cancer Center features diagnostic PET Scan services, a dual energy linear accelerator and a treatment planning system utilizing the latest technology to aid in defining treatment areas while avoiding harm to at-risk organs. Heartland Cancer Center is equipped with a Linear Accelerator, or TrueBeam, which can image tumors with high precision and deliver high energy treatment in a way that minimizes the amount of radiation delivered to healthy tissue.

In addition, Heartland offers the latest in chemotherapy and radiation therapy to improve tumor control, reduce side effects due to better organ visualization, and enhance treatment techniques for optimal outcomes. It also partners with other entities to provide increased access to the latest cancer treatments through a variety of clinical trials.

From caregiver to patient

After providing care and support for her daughter's ongoing treatment since 2010, Charles moved from caregiver to patient. In August of 2017, she received a diagnosis of invasive ductile carcinoma.

"This cancer begins in a milk duct and invades the fibrous or fatty tissue of the breast outside of the duct," explained Dr. Anis Toumeh, a medical oncologist for Central Care Cancer Center. "IDC is the most common form of breast cancer, representing 80 percent of all breast cancers."

Dr. Toumeh is both Charles' and Kramer's oncologist.

Now mother and daughter encourage and support each other through their cancer experiences. Charles said they are joined in their dual fight by the Heartland team members who work hard to accommodate and coordinate their treatment schedules to ease the burden for them and caregivers.

"Instead of traveling back and forth three days a week, we can get our labs, doctor appointments and treatments all done on the same day," Charles explained. "That has been an enormous impact on our families who have had to juggle their work schedules. … I'm just so proud that we have this incredible center in southwest Kansas that provides leading edge technology with a deep compassion and care for the people they serve. Blessed. We are so blessed."
---
Click on this link to access the October/November issue of MDNews. Story is on pages 6 and 7.
Click on this link to access the article on the Telegram's website.