Radiation oncologist Dr. Claudia Perez-Tamayo has earned a Lifetime Achievement Award from the Wichita Business Journal for her long-standing commitment to treating oncology patients in Kansas, as well as creating a business whose network of physicians has brought cancer care close to home in communities across the state of Kansas.  Central Care Cancer Center is a partner with St. Catherine Hospital and Centura Health in providing oncology services at Heartland Cancer Center, in Garden City. 
Dr. Perez-Tamayo was named a 2018 "Health Care Hero" by the Wichita Business Journal. She is one of only two recipients this year to win the award in the Lifetime Achievement category. According to criteria provided by Wichita Business Journal, the Lifetime Achievement category "honors a specific individual for his or her lifetime contributions to the improvement and advancement of health care."  
Along with other 2018 Health Care Hero award recipients from 11 categories, Dr. Perez-Tamayo will be recognized at a dinner event July 19 at the Hyatt Regency, Wichita.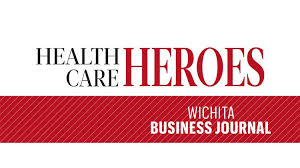 Dr. Perez-Tamayo came to Kansas nearly 30 years ago to practice and serve as cancer center medical director in Salina, while also serving patients in Halstead and Hastings, Neb., during much of that time. She came to Kansas from the University of Michigan-Ann Arbor where she participated in leading research on radiation oncology's effect on various forms of cancer. Today, Dr. Perez-Tamayo treats patients at the Tammy Walker Cancer Center in Salina, as well as at Central Care Cancer Center clinics across Kansas, including Newton and Emporia. She also provides consultations to radiation oncology patients in Central Care's Wichita clinic. 
Dr. Perez-Tamayo is board certified by the American Board of Radiology and the American Board of Internal Medicine sub-specialty of Hospice and Palliative Medicine. She has expertise in both brain and body stereotactic procedures, as well as brachytherapy, both low dose rate and high dose rate. 
She was awarded prestigious fellowships to both the American College of Radiology and the American College of Radiation Oncology for her contributions and service through education, research and service activities in the practice of radiation oncology. Her academic appointments include the University of Michigan and the University of Kansas Medical Center. 
-30-
---
For more information, contact Michael Dawes 785-823-0633, michael.dawes@cccancer.com
June 11, 2018
FOR IMMEDIATE RELEASE
News release by: Michael Dawes, PR Manager – Central Care Cancer Center, 785-823-0633, ext. 228; michael.dawes@cccancer.com