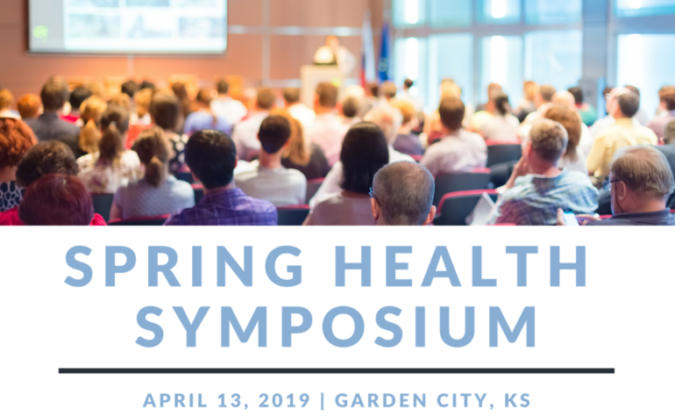 Central Care Cancer Center is excited to bring the annual Spring Health Symposium to Garden City on April 13. Last spring's symposium received glowing reviews by more than 70 medical providers and healthcare professionals who attended the event.
This year's symposium, which is accredited through Menorah Medical Center and St. Catherine Hospital, will be held once again at the state-of-the-art Heartland Cancer Center, located at 410 E. Spruce St. Attendees to the symposium will receive six credits for physicians, physician assistants, APRNs and nurses.
The Spring Health Symposium is designed to provide participants with a well-rounded selection of relevant, applicable and up-to-date topics in healthcare. Six experts will conduct presentations in their respective fields. The symposium begins with a registration and breakfast at 7 a.m. and ends by 3 p.m. The early-bird cost to register for the symposium is $20 and includes breakfast and lunch. After March 15, the amount to register for the event increases to $30.
"We are committed to carrying forward this annual healthcare event that is of the highest quality and affordability to professionals across western Kansas," said Dr. Claudia Perez-Tamayo, President and radiation oncologist for Central Care Cancer Center. "Feedback from providers who attended last year has been excellent. I have been contacted by physicians who are encouraging their colleagues to also attend this year. We are excited to continue and grow our event for this region."
The symposium will cover an array of relevant health topics such as the opioid epidemic.
"Many states are requiring education about prescription of narcotics," explained Perez-Tamayo. "The presentation at our symposium is a very good way of getting the education necessary to be informed about this subject."
Additionally, there will be an update on the HPV vaccine, and information will be presented about the advancements for screenings, imaging and therapies for prostate cancer. A complete list of topics can be found at cccancer.com/symposium. Presenters at this year's symposium are: Peter Van Veldhuizen, MD, Medical Oncologist, Genitourinary thought leader, Sarah Cannon HCA Midwest Health; Sami Mansfield, Director of Oncology Wellness, Sarah Cannon HCA Midwest Health; Kristie Clark, MD, FAAP President-Elect, Kansas American Academy of Pediatrics, Kansas Pediatric Foundation; Jenna Bell MJ, RN, OCN, Administrative Director of Blood and Marrow Transplant, Sarah Cannon HCA Midwest Health; Matthew Shaffer, MD, Heartland Dermatology and Skin Cancer Center; and Troy Unruh, Bachelor of Science Business & Computer Science Community Prevention Specialist, Community & Leadership Coach Vice Mayor of Garden City, KS.
Prior to the start of the symposium, healthcare professionals are invited to attend a Bristol-Myers Squibb product presentation, led by Central Care Cancer Center Medical Oncologist Leonid Shunyakov, MD. This presentation does not include CME or CNE credit.
A long-term objective of organizing the annual Spring Health Symposium, said Perez-Tamayo, is to advance healthcare in western Kansas so that patients will continue seeking care close to home.
"The Spring Health Symposium is an invitation to healthcare professionals to join us to promote wellness across western Kansas," said Perez-Tamayo. "Connecting providers with events like the symposium helps us to collectively create healthcare synergy for our region to insure that patients continue receiving high-quality care where they live."
Additionally, there is a free reception the evening before the event for symposium registrants and other healthcare professionals. For more information or to register online for the symposium go to cccancer.com/symposium. Those interested in receiving more information or to rsvp for the free reception may also contact Aaron Cannon at Heartland Cancer Center: aaron.cannon@cccancer.com, or 785-506-5716.
-30-
Illustration – Spring Health Symposium Banner
Central Care Cancer Center, https://www.cccancer.com
---
For more information, contact Aaron Cannon, Heartland Cancer Center, aaron.cannon@cccancer.com, 785-506-5716.
March 6, 2019
FOR IMMEDIATE RELEASE
News release by: Michael Dawes, PR Manager – Central Care Cancer Center, 785-823-0633, ext. 228; michael.dawes@cccancer.com